last updated 10/13/07
We're told Flight 77 took off with about 11,500 gallons of jet fuel for its transcontinental journey, and that this fuel was contained in its wings, which span 124 feet. So if it flew into the side of the Pentagon, we should expect to see a line of jet-fuel fire at least 124 feet wide across the façade, and yet more burning fuel exploding forward through broken windows into the building with the plane's momentum and burning everything in its path to cinders. From the outside, it'd probably look like this:
911 In Plane Site, for one, is certain that an airliner was not responsible and it was not even well-faked. In his narration, IPS writer/poducer/host Dave Von Kleist cited as evidence a relative lack of fire damage near the attack point on the ground floor. While some of the pictures he showed clearly indicated massive fires, he zoomed in on a post-collapse photo of the upper floors and calmly pointed out "On the 3rd floor it's plain to see a file cabinet with a computer monitor. Neither of them are damaged. On the second floor you can see a wooden desk, it hasn't burned. And on the first floor, a very curious sight indeed, a wooden stool with a book that is laying open. The pages aren't even singed."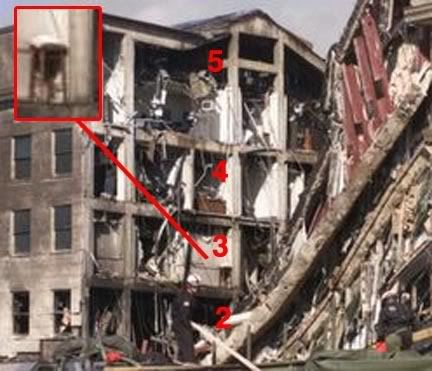 Dave knows that the Pentagon has five floors - the 5th has no exterior windows and the 1st is not visible in the shot above, which is precisely the picture he chose to use. Look just to the left of the building's peak and count down - 5, 4, 3… there's that miraculous stool, one floor slab above the impact site and a floor above any fire. The file cabinet Von Kleist cites on the third floor is actually on the 5th, and the wooden desk from the 2nd floor is actually on the 4th. His careful analysis of the public evidence completely subtracted two floors, one of which – the second floor - is clearly visible in this shot and looks rather seriously burnt.
Don't think I'm just nit-picking here. As critics point out, you don't level charges this serious without good evidence, and it's major blunders like this stool sample - and there are perhaps hundreds in IPS alone, that can derail people without adequate bullshit detectors. The video that has bragged "September 11 changed the world. This video will change September 11," on closer analysis, looks more like a parody of 9/11 skeptics than an authentic effort at what it claims.
Other examples of the stool sample used to question the jet fuel fire:
911 Review.org
Pentagon Strike (video)
Glen Yeadon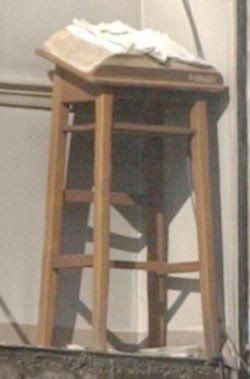 More on the book in question reveals the 'stool' as a likely bible lectern:
""Yet, as he (Mark Williams) looked up into the black chasm torn into the symbol of the mightiest military on earth, Williams saw a sign of hope. On a second floor, right next to where the jet sheared off a section of the building, was an undisturbed stool. And on it was a thick, open book. Fellow searchers who had gotten a close look said it was a Bible. It was not burned. Nor was anything around it or on the two floors above it. "I'm not as religious as some, but that would have me thinking," the soldier said. "I just can't explain it."
It sure does look odd, but the reason nothing there burned was by being on the third floor.
This site
thinks it's some other kind of book. Must've been important to get its own lectern in the corner. If it was a bible, I'd like to know what page it was left open to. If there's a message of 'hope' here, I doubt it's from God.