CIT WITNESS VERIFICATION PART II: THE LADIES OF 13th AND POE
Adam Larson / Caustic Logic
The Frustrating Fraud
February 3 2008
update 2/11 2am
Note: Thanks to LCF member bileduct for starting me seeing these patterns. This here is the "Convoluted manipulative disinfo" version of the article, which explains all my points adequately. For those with less patience, see also my

"despicable scumbag" summary version

.
Northern Redezvous / Southern Anchor
Craig Ranke, the argumentative co-founder of
Citizen Investigation Team (CIT)
announced back on December 10 2007 the release of their new video
"Flight 77" The White Plane
: "CIT further exposes the mainstream media cover-up with this extremely important new 37 minute short revealing what the people of Arlington REALLY saw on 9/11." [
source
] Their early 2007 video
The PentaCon
had already set the damning flight path from the Pentagon, north of the Citgo, and back to the Navy Annex (see graphic below). This follow up is centered on four witnesses further back along the flight path, and their main finding, as the title implies, is that "the plane people saw tree top level over Arlington timed perfectly with the explosion at the Pentagon was white." They speak of a "media cover-up of this white jet" to be confused with and erased by the E4B that circled the capitol shortly afterwards. [
source
] The
PentaCon
witnesses had disagreed on the color but that didn't matter; it was all about the flight path then. Now that four people used the word 'white,' this is reported as the most significant aspect and the flight path clues are ignored. For this reason I will first, in this piece, ignore the color issue and focus on what CIT has downplayed – what the plane was remembere to have actually
done
with its whiteness, according to these witnesses.
This new eyewitness data, in addition to the old, gave CIT as an inescapable reality this yellow swerve (red labels and arrows mine), what Craig has elsewhere described as "the flight path that has been getting established for us by the people of Arlington." While the curves are extreme for an aircraft that size, I'd guess this path is entirely possible for a 757. However I cannot visualize it happening without two very sharp turns with accompanying steep wing banks - one turn left, with right wing pointed up towards the sun, a rapid leveling and straightening on a more northerly heading, then an even sharper turn to the right, during which its right wing would need to be dipped quite low over the Navy Annex. Keep this in mind when looking at this as it has been re-created in the graphics below, yellow each time. The southern portion of this path, from the Navy Annex down, is what
The White Plane
and its witnesses are said to illustrate.
Here is the video itself for reference: If you want to watch the whole thing, I recommend reading this full piece first.
The White Plane
begins with Jamal El Kournayti, a caddy or something at the Army Navy Country Club on 9/11; as narrator A. Marquis puts it, "Jamal's account gives us a strong starting point for our flight path." This it does, by placing the plane well south of the previous accounts, which might seem ironic, since their original path was north of the official one. But this is also the only account of the four that, on its own considered merits, even
seems
to contradict the official path. El Kournayti's is the most specifically illustrated stretch, referenced to specific trees at either end of the range, which he says the plane flew directly over. The path and location they draw for their video is accurate to what El Kournayti describes and is the better part of a half-mile off the 'official path,' but with about the same heading.
So if we're starting out well south of the North-of-Citgo path, the attack plane had to connect to
PentaCon
witness Edward Paik, at the west end of the Navy Annex NNE of the end of the driving range. Both men would be near the hinge points where heading changed and should have reported a turn or at least the accompanying bank. However Paik was never asked about any turn, and gave clues only indicating a straight path. Likewise El Kournayti is never asked about and never mentions any bank of the wings or turn in the flight path. His gestures indicate a straight sweep across the sky on a bearing I map out at approximately 65°. So somewhere between Jamal and Edward the plane would need to shift to the north and do all its remarkable turning, banking, and leveling; it's clear at this point that a lot was riding on the witnesses of south Arlington who occupied that span.
Canvassing / Mrs. Hubbard
In between Jamal and Edward there were neighborhoods to screen for "additional previously unknown witnesses," neighborhoods like the one they call 13th and Poe, which is probably what the locals call it too, since it has such an uncanny – if unlucky - ring to it. Canvassing the few long streets of this mini-borough Nestled between I-395 and Washington Blvd, south of the Navy Annex, and north of Hoffman Boston Elementary School, Ranke found it, "painfully clear that the people on the street report something different than the suspect witness accounts reported by the mainstream media."
The PentaCon
's four North-of-Citgo witnesses had their four flight paths, hand drawn over aerial images of the attack; here again we have four witnesses but oddly not a single drawn flight path among them. Craig explained to me "I didn't have images prepared for people I did not know I would randomly find from canvassing. Only for the pre-arranged interviews." Granted, aerial long-views of every possible POV cannot be prepared, but a satellite map the witness could read relative to their view might work. Something could have, should have, been improvised to get some graphic confirmation. And wouldn't you know it… Jamal and then at least three new witnesses found and interviewed around 13th and Poe, all supporting the logical extension of their previous groundbreaking findings we're told, but not a pen-stroke of that good stuff to show for it.
The first witness presented after Jamal is Mrs. Hubbard, who was interviewed on the porch of her home on the west side of S Poe st just off 13th. Ranke did confirm for me that her window points on Poe street, which would offer a view to the east. Not only is there no flight path drawn by her, but no visual clues shared whatsoever; she declined to be videotaped and talks unseen, mentioning 'numerous clues indicating some flight path:
"It came right between these two houses […] I saw the tip of it going that way [...] It came this way. It came across here. And it went between the house with the gray roof […] and the big house. It pulled up so that it would miss those trees and then the next thing I saw was the puff of smoke."
Which houses? Which trees? I've scanned satellite photos for what she might mean but don't feel comfortable settling on a path and with CIT being and helpful as they have with their verification, the best I have to go on is the facts that she
saw it
, and "I thought it had hit the highway," meaning the raised curving portion of I-395 northeast of her east-facing den window. But CIT's yellow composite squiggle passes entirely behind her house and out of view. She's included as a witness to this path's middle stretch, but for Mrs. Hubbard to have actually seen this path, it would have to curve at least somewhat to the east of her den window, then almost due north to the corner of the Navy Annex, complicating the required turn to the right to rendezvous with Ed Paik's line. I think I know why they fudged it back behind her, (see below) but it's just fudging, CIT would say, and probably not a sign that she's a plant. She clearly, literally "saw the "tail" of the plane," Craig explains, "headed towards Edward Paik coming from Jamal." In reality, she never mentioned either man in her account and it's not even clear if the three know each other.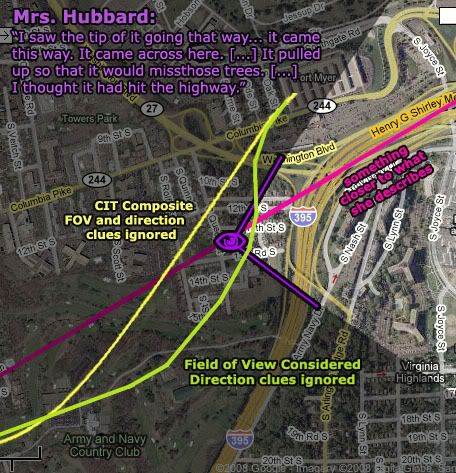 Before we can go any further then we must revise the middle portion – to pass in front of her house, which will in turn effect the remaining two witnesses. To connect the accounts of El Kourtayni and Paik while offering Hubbard a view, it would have to fly a bit further east than CIT shows, then turn near north, a heading of about 15-20° from true north, running entirely parallel to I-395. While her directional clues are still vague, I would offer the magenta line as at least better fitted to her thinking it crashed into the freeway somewhere in the distance. This is very different from what CIT decided she saw, even once it's adjusted to be
possible.
The Cousins With A Bathroom View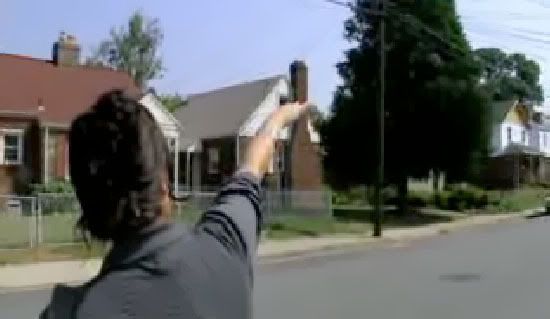 Veronica (first name only) was interviewed apparently in the August 2006 elite research foray, since Russell Pickering is visible and actually doing most of the questioning. She seems to be standing on 13th street, between S Poe and S Pierce streets, facing north and away from the camera for her entire interview. The segment starts out with her pointing out the plane's flight path, having been apparently asked about it right before. She also points about the same direction to her location at the time, her cousin's house on the north side of the street, from a window in the back facing north. "We were at my cousin's house over here; she's got a window in the back 'cause she was in the bathroom," Veronica explained. This makes it sound as if she herself didn't see it, but was merely passing along her cousin's account. But the rest of her account makes it indeed seem that she herself, if unclearly, saw "the white go by." However she learned of it, she seems pretty sure of the plane's general trajectory, her repeated arm gestures clearly indicating east-northeast, inconsistent with CIT's yellow composite path and far inconsistent with my corrected yellow-green path from east of Mrs. Hubbard's window. She also describes no kind of turn or associated wing bank of a plane swooping north and arcing east over the Navy Annex, repeatedly tracing a straight line across the sky, the only conclusive visual clue offered by any of the ladies of 13th and Poe that actually got through to the viewers of
The White Plane
.
All this is ignored by CIT, and Veronica's account is used primarily to corroborate the plane as white, and as an introduction to her cousin, Cindy Reyes, "who got a better look at the airplane" and did an even better job with setting the color trend. Reyes showed her face and spoke candidly after letting the interviewers in to stand in her bathroom and see what her view was like, a panoramic one looking almost due north, revealing the Sheraton hotel in the distance and the Navy Annex just out of view to the northeast. Her descriptions and gestures against that window indicate a descent to what seemed treetop level. For its lateral direction, she gestures from left to right, but it's unclear if she's trying to indicate three-dimensional movement, or just tracing across the window pane like one might a TV screen. There is some obvious confusion in the interview about left vs. behind (her left then or their behind now?), which leaves her directional and perspective clues vague.
When challenged, CIT has refused to draw the path they think she saw on a map anywhere, so I decided to try my own from clues she freely offered. There was a predominantly left-right (west-to-east) motion, but it was not purely seen from the side but "at an angle." I'd like to emphasize
an
angle, as in singular. Nowhere does she mention or is she asked about seeing any change of angle, any turn of the airplane. Whether they knew it at the time or not, this is the spot where it would have to turn sharply to a more easterly heading. And of course such a sharp turn, coming in from Mrs. Hubbard's FoV, would require a pronounced wing bank, which she also does not mention and is not asked about.
In attempting a guess of her flight path, remember that she and Veronica supposedly saw the same thing from about the same location, and that Veronica's gestures seemed to indicate ENE. Both paths in the graphic above agree on general distance from the window, but angle and turn are in question. This double-corroborated testimony of Cindy and Veronica seems to more strongly support the purple line, which is in fact the precise "official path" of Flight 77, or something quite similar.
Constructing the Flight Path
Among the 13th and Poe witnesses there are clearly
no
direct clues
for
the middle stretch of the yellow CIT squiggle, and in fact some serious points
against
it. The Citizen Investigators tacitly admit this in discussions by downplaying flight path evidence altogether. After the revolutionary flight path up north, it's all about the color and the location of - something. The issue of plane direction is clearly back-burner now:
"We KNOW that none of their accounts are perfect. […] They only need to be approximately correct. […] there is no need to determine the exact placement of the plane or a flight path at all. […] It is unreasonable to suggest that it is even possible to determine the exact placement of the plane from witness statements."
[
source
]
Craig in fact started
a whole new thread
at the new LCF in response to this piece, titled "No witness can accurately depict a flight path (The plane moved too fast)." This is a bad sign; they never admit something if there isn't a way to twist it into appearing to support the thesis. Instead they fall back on presenting false dichotomies, like this one, that are getting falser the deeper I look:
"If you believe the official story you have to accept that virtually all of them are completely lying. […] So do you trust real people or do you trust the government? Is it more likely that they have a reasonable margin of error in their accounts or is it more likely that they are all completely lying and that the drastically different official story is true? That is pretty much your choice here."
[
source
- emph mine]
Clearly CIT doesn't trust 'their own' people, taking the approach to flight path construction of "Draw a line from where Jamal saw the plane to where the citgo witnesses saw the plane. […] That's what we did. That is scientific, logical, and the most accurate way to interpret this data." So long as both placements are truly accurate and there's supporting data in between, or at least no contradictory facts, this is certainly true. Unfortunately that is not the case here.
The explanation was also a challenge; "draw a line from where Jamal saw the plane to where the citgo witnesses saw the plane. […] Think of all of their placements as being approximate and create the best estimation you can using ALL of their accounts. Go ahead, do it and show me what you come up with." Okay so here are some versions: CIT's scientifical yellow swerve and the 'official' path, more or less, in purple for reference in each: and my readings of the
White Plane
witnesses read with three different sets of assumptions explained on each: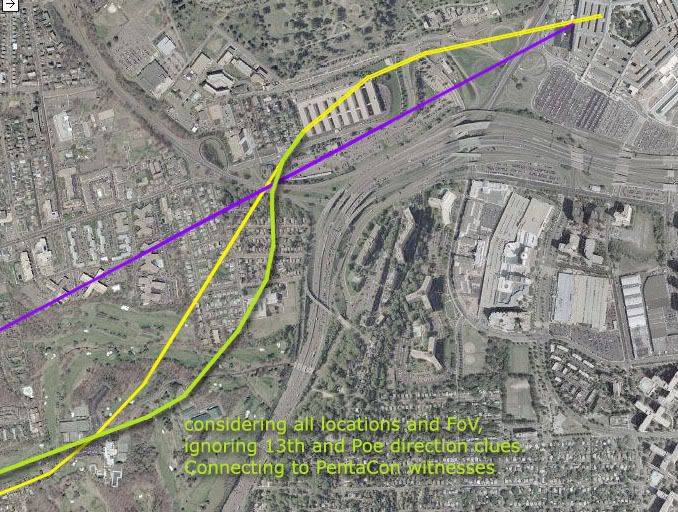 "Flight 77" The White Plane"
, an "extremely important " video "revealing what the people of Arlington REALLY saw on 9/11." Hardly. As Asshole Marquis recently asked a fellow LCF member, and as I now deflect back to them:
"Are you so sick and demented that [the Ladies of 13th and Poe] are just values in a logic equation? Do they represent actual witnesses and human beings who are scared about what they saw or are they just names and statements that you can play circle games with because you think you understand "logic"?"