FAA'S NoC ANIMATION
first posting Sept 13 2008, 12 am
Last update 10/8 2am
So, John Farmer is, I guess, back from Arlington and has received reams of new data, this time from the FAA. He alerted Arabesque and I via e-mail.
The FAA has sent me via certified mail all of the records I requested in my Court action. It is going to take the entire weekend to go through it all, but it looks like the ATC audio and radar records for 1332 – 1344 for Washington ARTCC, Dulles, Reagan, Andrews and Baltimore.

If this turns out to be everything I think it is, then CIT is going to be squirming a little more.
I get a lot of these from him and don't even usually keep up. But the second e-mail here, about the included animation, made me sit up and take notice.
I attempted to send you guys the whole video, but it was too big for some mailboxes. You are the first to see this (I hope) and you just know CIT and Rob are gonna love it!



http://www.youtube.com/watch?v=DQsyt_7c1H8
It shows, more or less, CIT's concocted path over the Navy Annex, with a hard hard right bank/turn and a passage north of the citgo, followed by low level impact (higher only to allow the right wing). I have just been in the middle of laying out
the overabundance of North-path clues
(there should be roughly nil), including the NTSB's earlier animation to similar effect, so this was doubly ironic as it hit me. This is so insane, the easiest explanation I can think of is... Farmer's pulling my leg?
Two stills, with real and CIT paths (quite app) in the usual colors overlaid. These are from the Youtube version, but Farmer made a higher resolution version
available for download and viewing
.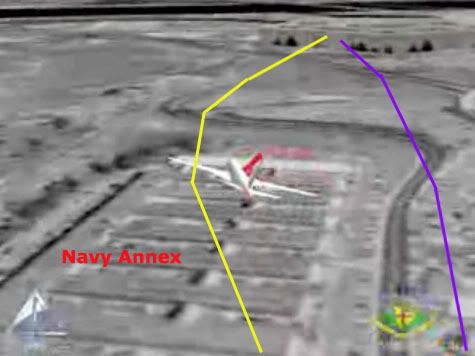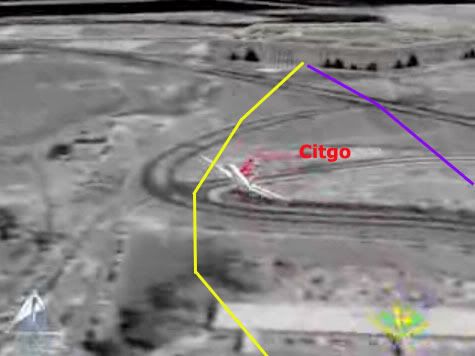 ---first thoughts, unedited
Any thoughts, people? All I can think of is what - the - fuck?
Or, wait... mmmaybe FAA based it on radar and/or FDR up to the end of that data (the loop and all looks fine on first glance) and then stupidly tried to fuse in the NTSB's apparent final moments, hoping they had some reason for putting it on that path for the seconds they were missing (I'd guess 6-10?) ... Just mysteries. This is going to turn out interestingly.
---
Further Developments
Discussion on this took off all over with the expected rapidity, but a more dynamic embrace than some expected.

CIT Forum discussion
Craig and Aldo, who seethe with venom against Farmer, and aren't 'taking the bait' as it were. They speak of "chess moves" and such... Very sophisticated over there, their apprehension and ruminations! On the other hand, many like
Rob Balsamo at the PfffT forum
were giggling with excitement, while CIT strongly advised caution, leading to a curious argument about which dishonest track to take. CIT messenger Domenick DiMaggio (aka Terrocell, TC329) also started a
JREF discussion thread
about it, stating at one point:
they faked it and now they're releasing fake evidence to corroborate cit's evidence and yet still try to prove an impact. and as soon as you guys put the cats down and erase lloyd from the history books they can get away with their evil plans.
Whatwhatwhat? Nonetheless, this is where things took off with both confusion and learning. First, beyond disseminating it, the FAA seem to have no role in this short video. JREF member Gumboot first questioned their authenticity and/or their relevance, but over the first couple pages identified the logos onscreen (www.stk.com and HQ NORAD/USSPACE/AN), and found STK was the Satellite Tool Kit Radar module, marketed by Analytical Graphics, Inc. (AGI), a company that makes software for "national security and space professionals for integrated analysis of land, sea, air, and space assets." He noted "the big golf ball things" seemed to be FAA Long Range Radar sites, and decided this may well be "a radar-based map for NORAD purposes," possibly "to determine which radar sites AA77 passed through, so that 84th RADES knew which data to collect for their analysis." Definitely getting somewhere.
Radar based... north path... I would have figure it out eventually, but
Celestrin beat me to it
. No wonder CIT were apprehensive - they knew about the false return placed for whatever reason, just north of the Citgo, and
I had to point out
that it wasn't their north path plane, at least 1,000 feet to low for radar to see. Celestrin made the connect:
RADES data has been available for months and it shows the exact same North of Cthulhu poperties as this animation. [...] Why is it such a wonder that an animation, which most likely uses the same data, would also show the plane further north?
I looked at it a bit the other night and did some graphic comparisons just to see what patterns popped out. I took the peach map from the NTSB's Flight Path Study and set the final map of the animation over it [below]. Note the apparent offset in rotation and location of the loop cross point. I'm not actually sure if the whole path is rotated, or this is just a local distortion from roughness. It is rough and unrealistic in its movements.
Farmer instantly
pointed out
"Look at the loop you idiots, it is a square with rounded corners!" I noticed this too, as did Celestrin. The "squarish" appearance of the turn manuever also suggests that the data, which was used in the animation, wasn't continous." Given 12-second intervals between returns is "too fine for the animation," he wondered "what if one takes the RADES data 1 minute apart," or every fifth radar return, and got
this
.
When I marked the spots where straight lines start curving, and overlaid it with the 84 RADES returns for the loop, it looks more like this was based on taking every other 84 RADES return (pink dots) as anchor points, and replaced the intervening ones with straight lines or full curves, depending.
This in turn may be a clue to the north path's appearance. Consider this pattern in light of these final three points of RADES data (the points stupidly connected above]. There may be a different dynamic at play here, but it seems similar in pattern – draw a straight line to, or near, the north point, and then a sharp curve to try and meet, or orbit, the next aberrant return just south of impact. Considering there may be a rotation of the path relative to the map, or vice-versa, and perhaps a slight spatial offset, the actual mapped curve may not be where it looks to be onscreen. Interestingly, when I rotate the line to fit the real path, the turn is about seven degrees, or the amount the NTSB's final map was rotated from its own lat-long grid. [Propos to Farmer for the background image establishing the real path beyond a reasonable doubt]. This is not my final answer, but I'm pretty sure it's close to correct, or on the right track at least.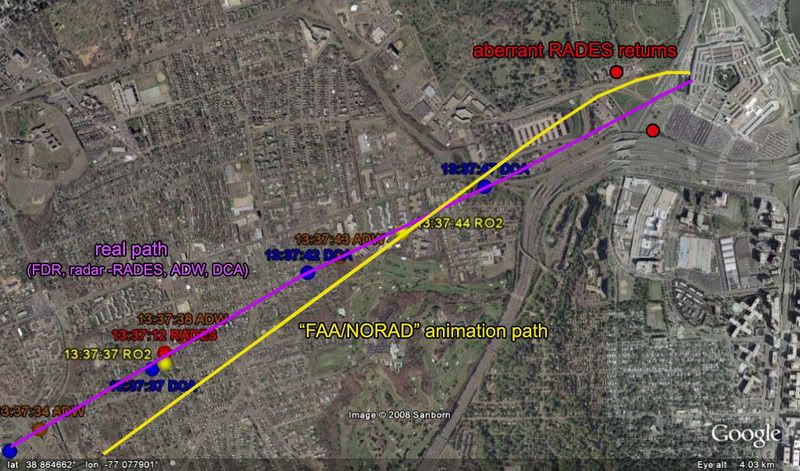 ---
More on the source
Pilots for 911 Truth forum member "Paranoia" looked at AGI's STK.com website and found some interesting information verifying Gumboot's ID. [
link
]. Of interest is a winter 2002 presentation by AGI President and CEO Paul Graziani, regarding their 9/11 animations. The accompanying
powerpoint presentation
confirms he's discussing this very simulation - it's pictured on page 5. In his delivered remarks [
PDF link
], Graziani explained to assembled conventioneers how "actual FAA radar data was used to accurately recreate the events and model the flight paths of hijacked airlines as well as the responding military aircraft." Actual data, it would seem so. Accurate, only sorta... Of interest is the line "complex problems that once took weeks or months to complete, now take only seconds or minutes when employing software capabilities." Maybe they should have at least spent
hours
on this one.
Additional update: Just to clarify, this is a NORAD product, not FAA.
This powerpoint presentation
, from a June 2002 STK users conference, explains the project a little. It covered all four flights, plus responding fighters, all from FAA-supplied radar data.
---
The Video:
I refined slightly the final returns angle, and put it together in video form, viewable with notes
here
.