COLUMN CONFUSION: OFFICIAL REPORT DISCREPANCIES
Adam Larson / Caustic Logic
The Frustrating Fraud
Last Updated September 4 2007
It's not just the conspiracy theorists who have a problem identifying present vs. missing support columns in the Pentagon attack aftermath. The official story as well has two schools of thought regarding first floor column status, neiter one correct by my analysis. The American Society of Civil Engineers (ASCE) Pentagon Building Performance Report, looking at first floor damage, sees columns 15, 16, and 17 "severely distorted but still attached at least at their top ends to the second-floor framing." [1] This is what I originally saw as well, as have most others.
But this is likely incorrect, though it requires
a separate post
to explain the reasons why I believe these columns were removed and replaced by horizontal elements from above (floor slab, facing, masonry) that on fist blush look like columns but are not.
A still from the PBPR, a 3-D model by the ASCE. The three red slants here are the columns 15-17 I have brought into question. The lavender ones are "presumed" to have suffered major or total damage – which means they were in the collapse zone, invisible in early photos, and so unknown. The red pillars are the worst damaged, "missing, broken, disconnected," elsewhere described as "without remaining function." Some were entirely knocked loose but found, some were disconnected but standing, and some totally obliterated, here represented by dots on the floor where they were. These red "columns" appear out of place when all those around and behind it are verified or presumed vanished. I suspect this graphic is incorrect by having the three red pillars shown as anything but dots.
Note also that some spaces aren't color-coded at all but left blank. Despite their impressive credentials, no one at ASCE had time to look up close before the collapse, and only so much could be told afterward. In the collapse zone "the team was unable to determine specifically the level and extent of impact damage," the report notes. Left of the "CL 11/Expansion joint" line such absence was verified by on-site inspection, on the right they probably decided on their assessments by looking at the early photos as seen on this site. The spots left blank were apparently the ones not visible in photos, and so they didn't even venture a guess.
Oddly enough, another, earlier, official report disagrees with these and backs me up on this point. The Pentagon's own Renovation Program included a slide of "structural damage" for a News Briefing in March 2002. [3] The slide showed columns #15-17, along with the entire outer row between columns 9 and 19 uniformly listed as missing. This graphic is condensed from their original – column numbering was as unreadable on theirs, but the expansion joint on column line 11 was the cut-off line for the collapse area. counting right to left from column 10, we see they have column 18 missing as well, which is odd considering the photos I've seen shows that one at least at standing proud even after the collapse.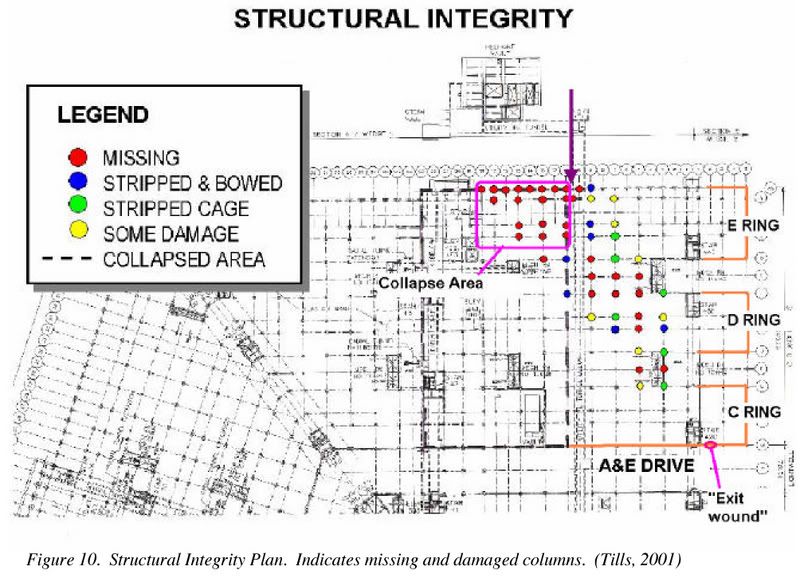 The same graphic as reproduced in FEMA Urban Search and Rescue's Pentagon Shoring Report.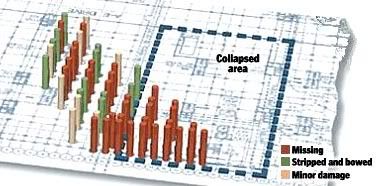 And another, earlier yet report in
the Washington Post (9/23/01)
employed the graphic above, likewise showing columns 10-17 on the front line listed as "missing," as well as 18 and in this case column 9 as well. This columns was in fact intact (post forthcoming). It seems they've removed two columns I see as standing. Note the other side of their collapse zone is way over there at about column 23, which is clearly not the case - as we see below, colum 18 both marks the cutoff line of the collapse zone and remained standing afterwards.
Here is a montage centered on the damaged expanse between columns 18A and 19A. The first shots are lined up with the ASCE's report of the non-columns 15-17, as well as their identification of #18. All sources agree that CL 23 represented the edge of the 23 column-wide pronounced facade section, so I measured out the area in question before and after the collapse. Note column 18 is standing at all times, though damaged, and 19 remains in good shape.
So one school of official reports thought insist wrongly that columns 15-17 are present and rightly that 18 and 19 are intact, whie the other rightly asserts that columns 15-17 are gone, but wrongly classes columns 9 and/or 18 as missing too. Should it be that hard for any one source get it all right at the same time?

Sources:
[1] American Society of Civil Engineers. "The Pentagon Building Performance Report." January 2003. PDF version. www.fire.nist.gov/bfrlpubs/build03/PDF/b03017.pdf
[2] http://911research.wtc7.net/pentagon/official/index.html
[3] "Structural Damage (.JPG 77 KB) (020307-D-6570C-008.jpg)" Graphic used for: DoD News Briefing, Thursday, 07 Mar 2002 - 11:00 am http://www.defenselink.mil/news/Mar2002/g020307-D-6570C.html
[4] Washington Post. "Rebuilding the Pentagon." Graphic. Publisheed September 23 2001. http://www.washingtonpost.com/wp-srv/nation/graphics/attack/pentagon_7.html