October 16 2008
Recently a fellow JREF member started
a thread
about CIT witness Sgt. Lagasse and his amazing wrong placement of the famous downed light poles. In the video below, at 5:45 he explains how he didn't see the light poles struck, and at 6:00 CIT dares to explain the "official story" pole locations and sets up a never-repeated feat of mental gymnastics. Lagasse can't abandon his NoC testimony now without saying something really dumb. So he does, and insists "nothing happened over here," where light poles were knocked across the road and into at least one car. He's in his own little universe here, clearly indicating pole and cab troubles further north where nothing happened. If he saw anything, as they came down, as they lay after the attack, or later in photos, he had to know they were at the overpass on 27 at the cloverleaf, not along a flat stretch north of there.
CIT chose not to use Lagasse's testimony as proof that Lloyd's cab and the downed poles were actually somewhere other than "official photos" show them. It would be the consistent thing to do, since he said it, but then acknowledging that the plane impacted the building where it meets the ground would be consistent as well. Running with this misinfo would be too obviously self-debunking even for the Comedy Improv Team, so they have explained how Lagasse is "in denial," warping his memories to fit the true trajectory. He can't grasp the horror of the light poles in the wrong spot, so he's shifted it all to where it 'should be.' Only stuff on the ground can shift like that of course, never the plane. He has to be right on that.
6:07 "No chance. There's no chance. If... and as a matter of fact, I know for A fact that this light pole [...] there was a light pole here that was knocked down, and there was a light pole here that was knocked down, not any over here." [indicating the real location] [...] None of these light poles over here were knocked down. They were here. NONE of these were knocked down."
He also denies any "official story" that has the plane south of the Citgo. He may be technically correct, but every element of the "official story" in fact mandates that it DID pass that way. The only "official story," he says, is the Arlington County After-Action Report, which does not mention the light poles or trajectory at all, but does softly indicate a path back to the poles in
their graphics
. So he didn't deduce their placement from that. Hmmm....
Interestingly, his story has changed over the years. This is what Lagasse said in a 2003 e-mail exchange with pre-CIT north-path flyover proponent Dick Eastman:
Eastman:
2. You did not say whether you saw the poles being struck down. Am I right
in assuming that you did? Did you see how high on any of the poles contact was made?

3. Can you recall seeing what part of the plane struck any of the poles?

Lagasse:
Question #2.... near the top....yes I saw the plane hit them..granted at the
speed it was traveling I cant be 100% sure of exactly where on the
poles...but I did remember a black and orange cab that was struck by one of
them

Question #3 Wings....there was composite material from the wings in the
area around the poles that had been struck..the fuse could have struck one
of the poles as well.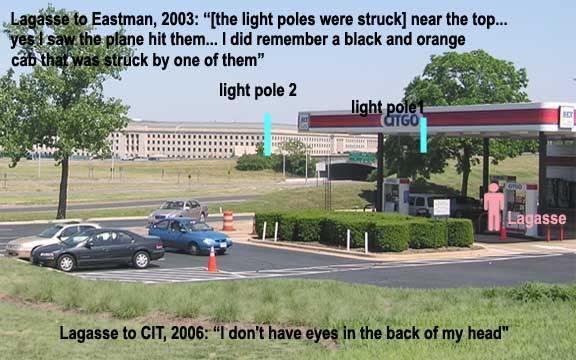 Y'all can do the math on this yourselves. I just wanted to post that graphic.