October 8 2008 4am
Just thought I'd post this, regarding Levi Stephens. Should be self-explanatory.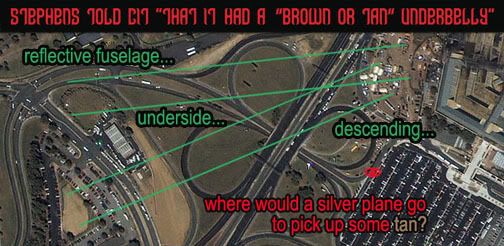 ETA: For the record, this seems to verify that they really did talk to Stephens, which many have doubted, since they haven't been able to share the audio. I've never doubted them on that, and in fact I thank them for gathering more good evidence for where the plane really was. Stephens couldn't even see the Citgo from where he was, so when he says it passed north of the station, it means little. But when he sees the brown dirt mound just south of it, the one that Turcios wasn't standing on, reflected in its undercarriage, which he could see, that's something useful.
Undefined deception of smoke and mirrors proposed. Mirrors here only seem to be revealing reality.