LIGHT POLE ANALYSIS: POLES ONE AND TWO
Adam Larson / Caustic Logic
The Frustrating Fraud
November 29 2007
working copy update 11.30 1 am
The first two light poles of the five downed in the Pentagon attack were along the west side of Route 27, about 1000 feet from impact. Note here (graphic quite approximate, will be replaced soon) three green dots along the width of the flight path: pole 2 furthest north, pole 1, then a VDOT traffic camera pole that was left standing but suffered a superficial 'smudge,' presumably from the right wing tip. Effective wingspan across this line is approximately 210 feet. My intent here is to determine what I can about pole 1 and 2 damage to help me determine effective roll (wing bank) at that point, or what the fakery was trying to show, take your pick.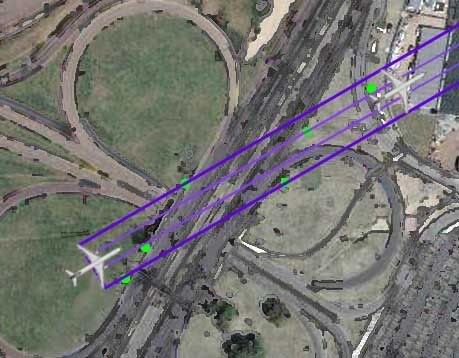 Pole 2
First, let's look at pole 2, the least clearly seen of the five downed. Russell Pickering's
analysis at Pentagon Research.com
compiled the few shots with it visible, peeking out from behind the bushes on the left side of the bridge mound. As this montage I made of the avaiable shots shows, this almost looks slender enough to be the smaller truss arm that holds the lamp head, or more likely the pole itself – its narrow upper end. The left wing would have hit it, and much too low to have directly caused that bend – presumably a secondary effect. There are no photos I'm aware of showing the main damage anything like what the other poles show.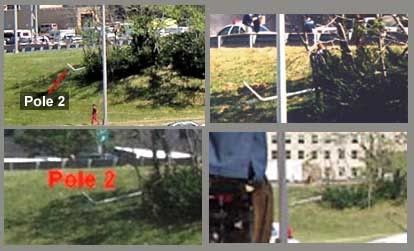 Update: A
previously unseen photo
I ran across later may hold a clue to this pole, and vice-versa.
Pole 1
The first pole downed, numbered 076, is the famous pole that is said to have speared Lloyd England's taxi windshield, covered in some detail at
Pentagon Research.com
. There is much, much written about this case - the inconsistencies in Lloyd's story, the damage inside the car and to his windshield, the lack of corroboration for his take that this long pole segment was completley sticking out of his car and was then removed by himself and a silent stranger. Most people who look into the case decide the story does not add up, but there are different theories as to what actually happened and to the significance of this mystery.
Update: It seems by
a closer look at the damage to the cab
that Lloyd's story is not as unlikely as I had thought.
There are also smaller parts visible (top shot, left: truss arm and lamphead, as well as another small straight piece further to the left, but for now I'm interested in the length of this prime piece of history; the '40 foot pole' that could not have fit in the cab – how long is it really? Unfortunately I can only get a range on original pole dimensions; Pickering says 28 feet, other say 30, and some say 40. After measuring photos back and forth with different numbers, ratios, I've decided on these proportions as a best fit, though still approximate:
Pole height: 32 feet
Base height: 16 inches
Full height to cap: 33.333 feet
Pole diameter at base: 8 inches
I also found the proportions of 1990s model Lincoln Town Car, which this seems to be: 77x219." With al this, rough ratios were set, roughly averaged, estimated, and the apparent length of fragment on the roadway is 20-23 feet - perhaps a bit longer - about 14-16 feet of that straight.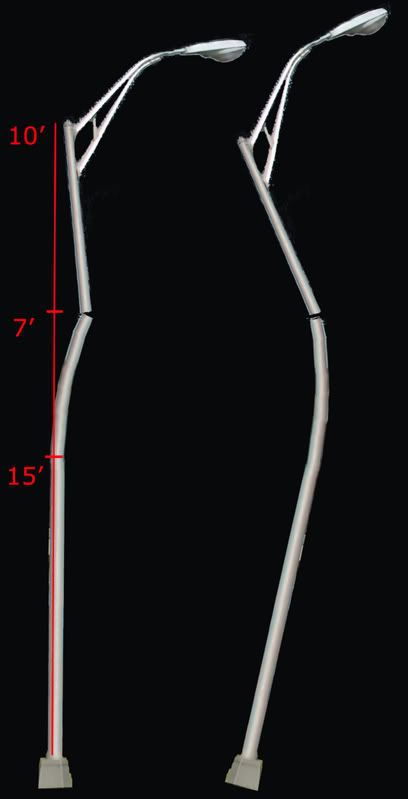 It's probably not even new, but I've decided the part of pole 1 seen by Lloyd's cab is about 20-23 feet long, missing perhaps ten feet off the top, including the parts where the truss bolts down. Where that top part wound up is something I haven't looked into, but they could be simply the pieces on the road nearby, depending if the straight piece measure out right. It's also possible that a sizable chunk disappeared into the jet's engine (see below), causing the gray smoke visible trailing behind Flight 77 at impact.
This graphic, based on another light pole in the area, shows two impact scenarios that geometrically could explain the damage seen, including that unique bend, and the separation of the two parts. I'm not sure kinetically and forensically if either makes sense, just throwing it out there.
Attack Profile: How The Poles Fit In
Putting pole 1's damage into a larger framework that's half-done. While pole 2 is inconclusive, pole 1 damage - a curve and a shear - fits other clues as to the plane's altiude and right-high bank at that point. effective wingspan cutting across Route 27 – 205-215 feet – poles about 140 feet apart – I placed the light poles approximately into a graphic I was working with – between the camera mast scuff and tree damage alone I had a pretty good image of the plane. As it turns out a scaled 757 profile does fit. And the poles don't really mess it up. Perhaps I placed pole 1 a bit wrong, or underestimated the perspective a tad, because the bend of the pole also corresponds roughly with the engine's lower edge. All these points line up to have pole 2 clipped by the outer left wingtip 14-16 feet above ground, and give the plane about the same bank recorded in the damaged facade one second later as well as the generator, fence, retaining wall, and possibly foundation damage between.