MY INFAMOUS PENTACON REVIEW
Adam Larson / Caustic Logic
The Frustrating Fraud
November 28 2007
working copy - last update 12/4 2 am
---
Introductory Note:
This is not exactly the original as I posted it – I seem to have lost that unfortunately. But this is a version before I added some alterations to appease
Craig Ranke/CIT
and before I finally pulled it (back in July) for causing too much friction for my liking. I've repeatedly been accused of 'conceding' that my review was unjustified, etc. by virtue of pulling it, and this has been used by CIT to attack me as a disinfo/COINTELPRO/operative, or brainwashed nimrod sent to neutralize them, or whatever. This has some good reason, like that I attacked them first with the now-infamous phrase "Pentagon-sponsored disinformation." This line is oft-quoted by Craig to justify his stance towards me. I honestly have no personal problem with their whole hard truth warfare thing (though it is troubling when coupled with other observations, like thse below). So for the record, I re-post it here in its original context with all typos and errors left in but notes added in this format.
And keep in mind I had just seen the video a couple of times and had little background information and somewhat less knowledge of all evidence in general. I was pretty sure a 757 impacted, but a bit stumped by the coherency of the north path testimony, and all I could really think of other than me being wrong on all points was coordination – and I said so. But the strength of
Craig's response
, and too much attention on a piece that I didn't write all that well left me embarrassed and wanting to pull it. But with the advantage of another nine months-worth of knowledge, I regret my initial suspicions less and less, and either way, in the interest of clarity, here is what I said before these guys ever had said a word to me.
---

VIDEO REVIEW: THE PENTACON
Caustic Logic is forced to review: "The PentaCon: Eyewitnesses Speak, Conspiracy Revealed" (smoking gun version)
Update: March 5 2007
This rather troubling video opens with a CG rendition of the Flight 77 "flyover maneuver," followed by the opening credits, which announce solemnly "Citizen Investigation Team is forced to present" … a grisly, over-the-top montage of foreign people killed at the hand of the US military. All this murder, justified by imperial greed and… the PentaCon! Both the video's graphic fixation with the physical building and with the sins of wars planned from within those five rings, immediately bolsters my gut reaction that this is indeed Pentagon-sponsored disinformation. With this attitude wrapped around and supported by another set of dissolving claims, the video's title is apt either way.
---
Note:
I certainly don't mean to belittle the suffering unleashed by the "World War IV" made possible by 9/11 and its string of unlikely 'failures.' I simply take issue with their manipulation of the emotional urgency this lends the debate to try and ram their conclusions through the BS detectors of '9/11 Truthers.' Though true motives are impossible to divine for certain, the tingle of disinfo I got was real and has its reasons: as I added in a later update, this would serve as "a possible self-aggrandizement sarcastically disguised with demonization," and using the anti-DoD citizen team would effectively mask the operation, if not a little too perfectly. Or it could just be my paranoia. Whatever.
---
The first several minutes are spent with Aldo Marquis' exceptionally smooth and relaxed voice endlessly setting up the official flight path, showing repeatedly the soon-to-be damning cover-story testified to by government lies and the physical evidence. This is said to conflict with just-discovered eyewitness accounts that again "prove" that, whatever exactly happened on 9/11, no 757 hit the Pentagon.

I watched the shorter, "smoking gun" version of the PentaCon, which promises to be far more popular than the longer research edition.* This one hour, twenty minute work draws on four separate accounts that place the attack plane unequivocally on a flight path different from the previous official one, well to the north and thus incapable of clipping the light poles on the official path or causing the extensive damage to the building's lower floors. The main points giving these accounts enough weight to counteract the others we've heard, as Marquis listed them:
---
* Note:
As of November, still not released.
---
1 – The four accounts jibe with each other – at least on the one pivotal point they focused on, though on other points they still disagree, their flight paths don't match up terribly well (see below), and their descriptions of the plane differ.
2 – The question is simple – was the plane coming in to your right or left? (and which way were you facing? Oh wait, was that before the plane… no wait, I was over here, then…)
3 – The witnesses had the "best possible" vantage point to see the attack – not exactly, but three of the four had pretty good views.
4 – The witnesses are credible; two of them are Pentagon cops! *
5 – Their testimony was filmed on-location to accurately re-enact and recall what they saw, and besides...
6 – Everybody remembers 9/11 clearly, especially if they happened to see an off-white United Airlines 737 hitting the Pentagon from the northwest.
* Note:
The other two have nothing like Defense Protective Services employment to cast leverage on their recollections, since they are naturalized immigrant citizens, with no secret, threatened deportation hearings or anything, or so we should presume.
---
1) Edward Paik, an auto mechanic, was working at his shop just west of the Navy Annex, and saw the plane fly right over him and very low over the surrounding rooftops. His only salient description is of black wings (shadow? He would've seen it from below). His English proficiency is limited, and he seems a bit confused in his awkward, eight-minute testimony to Ranke, trying to keep his clipboard at one point. His account, all in all, placed the black-winged plane on a near-straight line from south of the Navy annex, the closest of the four to the official story, but sending it north of the Citgo.
---
Note:
New graphic – Terry Morin's account read literally (ie, wrong), the official path borne out by much evidence, Paik's drawn path across the annex, and the CIT composite path merged from their four main witnesses. Note the different elements each got right or wrong; north-south location and compass heading. It's my firm belief that Paik and Morin saw the same thing but just decribed it differently enough to create two out-runners near the official path, and that CIT took the northernmost of these two and morphed it yet further north to fuse with thir three main witnesses, below.
---
2) Robert Turcios was at work at the Citgo station when he saw a large, twin-engine, wide-winged "gray" plane. He later clarified it was more silver, with no markings he remembered, which is roughly consistent with American Airlines' nearly-paintless paint job. He was 100% certain it flew on the north, though he saw no light poles hit in the perhaps one second the plane was visible. Shortly before the building, he saw the plane pull up over a 20-foot-high over-road traffic sign - and thence, one would think, over the building. Turcios seemed confused and a bit annoyed when Ranke asked about a flyover and/or second plane; as Marquis' voice-over explained, the witness still believes the silver jet hit the building, even though his account makes it "impossible." The subtle implication seems that Turcios is an idiot, but if pressed, the CIT folks would probably say he just had to believe it hit but that this bias does not adequately mar his testimony.
Note:
Turcios' testimony had him at the station's south end, and running up the little mound to see the plane pull up. This is not shown in the proper view of the Citgo security video, which CIT strenuously denounce as irrelevant evidece regarding their Citgo-centered case. It was an anti-Turcios smear,
they insist
, first released just ten days after they first announced on September 5 2006 that they had a north path witness. As Craig explains, the video release was "done to discredit Robert Turcios since
he is not visible in the video
." Another possibility is the video is real and their witness was simply
not there to do what he says he did
and his testimony is bogus. And again, besides Robert not being represented, there is
a large shadow inserted
consistent with a plane to the south of his (reported) position, when he had indicated it was just north. Proven manipulated? They had better hope so.
Some observations on Turcios' account: was he even outside the station?
A unique intuitive reaction to the Turcios interview by
StevenWarRan
(apparently no longer up) noted the subject "gets upset in direct proportion to the pressure placed on him to say a certain thing in a certain way, I saw a common attribute hidden by its obviousness: the quick ins and outs, sometimes only a few words long, without any continuity, like computer viruses battling."
John Farmer flash presentation
: I'm not sure this is really Turcios here but it's interesting nonetheless.
---
3) Sgt. Chadwick Brooks was a Pentagon police officer on patrol at shortly after 9:00 am, when he pulled into a parking lot next to the Citgo to catch news on the New York attack. After he'd been there a while, the plane suddenly came in from the west, to the north of the station. He saw impact and fireball, presuming that the plane impacted building, but saw no light poles hit. He thought it was a 737, and emphasized to Ranke the plane's size and large number of people on board. He saw no second plane.

The oddest part of Sgt. Brooks' account is his recollection of the plane's color, described as off-white or "champagne." He thought markings were of a United Airlines plane, with blue letters, but UA planes have distinctive dark blue and mid-tone gray color schemes. And no one else has described a United plane, the official one of course being a red, white, and silver AA plane. Is he inserting the color scheme to fit with the airliner he thought (from news reports) had hit the building? Ranke doesn't probe the sergeant on this, and the narrator fails to point out or explain anything as far as inconsistencies, instead moving on swiftly to their obviously favorite witness...
---
Note:
The silver-white problem has been worked out – CIT has decided the plane is now white, the flyover white jet that apparently came down the river and looped in from the southeast and then north of the Citgo. Apparently anyone who said silver meant white, and anyone who said white (or near white) meant white, not silver. Lettering and design color issues are probably addressed somewhere too. I'm behind on the specifics here.
---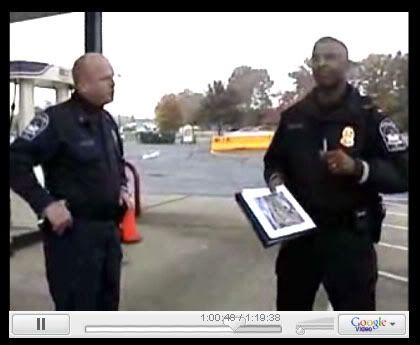 Sgt. Lagasse and Brooks at the Citgo. Brooks has just drawn his flight path for Ranke.

4) Sgt. William Lagasse, a pentagon police dog handler, provided a rather solid presence to the northerly flight claims, having been already famous (in some circles) for his earlier testimony of the attack; the son of an aviation instructor, and familiar with all major plane types, he instantly identified the culprit undeniably a a silver AA jet, probably a 757. He had his dog in the car, which he was filling up at the Citgo station after chatting with some cops about the NY attacks, when he saw the blur perhaps 100 feet up and then heard it swooping down, in less than a second exploding against the building. No flaps or landing gear were down, and he could see shades pulled down on the windows as it came in from the north. He was pretty sure it actually hit with a "yawing" motion, having observed no pull-up. He saw no light poles seeing hit, but there were ones down so he presumed they were cut by this plane. He's 100% "bet my life on it" certain that the plane flew over his left shoulder into the building, placing it to the north. Ranke did risk upsetting his interviewee by presenting him with a picture showing the clipped light poles, but Lagasse refused to believe it. Indicating the official flight path, he insisted "nothing happened over here. Period."
---
Note:
Lagasse is not suffering from vague memory, but specifically wrong memory. He specifically pointed out on a map where at least two poles were knocked down on his path that did not happen. Indicating the area he would have had to drive right through to get there, he said "none of these light poles over here were knocked down. They were here. NONE of these were knocked down." He also indicated Lloyd's cab in that area, hundreds of feet from where it really was. CIT chalks this up to denial-driven memory alteration. Anyway, when Craig says the 'official story' put the pole damage further south, Lagasse responded - incredulously - "what official story? The only official story would've been the Arlington County Police Report done after the event. There's no official story other than that. That's the
After-Action Report that was written by Arlington County."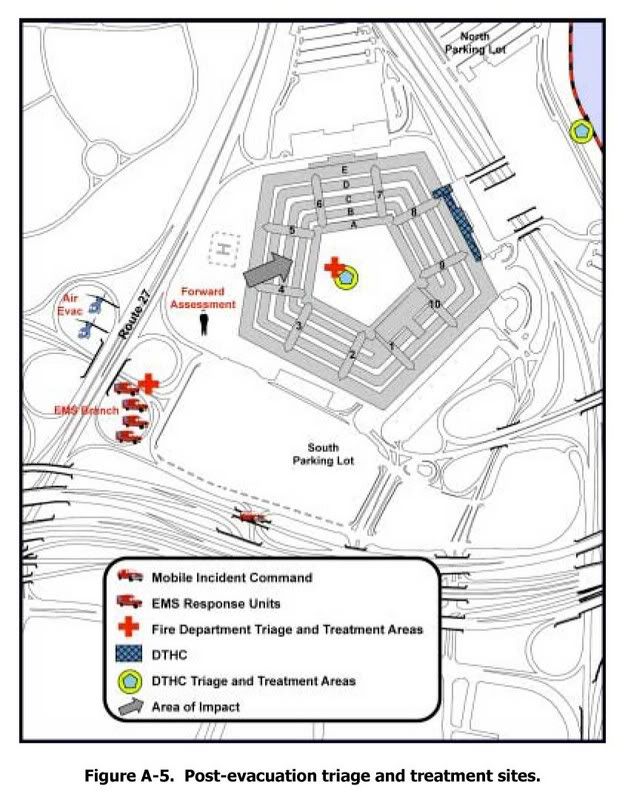 Just from this, it seems Lagasse feels it supports his north-side recollection. If he hadn't studied it closely before speaking, he should have, because then he'd know how deep the 'cover-up' went. The text is rather vague on trajectory, but in several graphics throughout it indicated the official path (arrow at impact point) and clearly lines up with what Craig termed the official story. (note location of "forward assessment") The downed poles are on this path. Did Lagasse never see this and have his memory jogged? 'At the cloverleaf? Oh yeah, that IS where the cab was…'
---
Lagasse also initially took them to the wrong spot, but then recalled on-camera his backing out from a different pump than he thought he was at, which Ranke notes with relief, as his testimony then matched his patrol car pulling out as captured on the Citgo's security cameras. Lagasse had earlier cited that he was seeing the plane from the right side, meaning it was to his left, or north. This account at least is consistent with earlier, known testimony, but he clearly does not buy the no-757 theories, having repeatedly attacked the previous flyover theories of Dick Eastman. He can't be happy that his testimony is now being used to bolster - and quite well - another flyover theory. Or perhaps he's just doing his job as a link in the Pentacon disinfo web, having earlier earned anti-CT credentials in his spats with Eastman.
---
Note:
This fascinating 2003 analysis by Jean Pierre Desmoulins
helps shed some light on the Eastman/Lagasse back story. This discussion has flared up time and again
(like here)
. Craig has informed me, based on his assessment of possible motives, any such conspiracy theorizing is loopy, unsubstantiated, and so nuts he was being responsible in never bothering to consider it. Regarding this possibility of organized, malicious error in the accounts, I
recently asked Craig
"why have you have (so far as I've seen) never addressed this possibility at all until forced to? If you have ever publicly aired doubts about the main content of their accounts, or the possibility of systematic deception, now's the time to link to it. Otherwise, embracing one ridiculous possibility as a 'smoking gun' while rejecting another without even bothering to explain why, to dismiss it as if it never existed, is a rather suspicious way to carry out an investigation." He responded "The notion is so completely absurd that my answer is an emphatic NO. Nobody who went through what I went through would consider such a ridiculous assertion." Is this an admission that he's simply too deeply invested to turn back now? If so, he and Aldo had to both just not consider it at the beginning either, at least long enough to get this far ahead.
---
In concluding and synthesizing the accounts, Marquis explains some of the reasons the witnesses think the plane hit the building; they had been conditioned by news from NY to expect a plane to hit a building. This helped mask the plane's flyover, and on the other side of the synchronous blast the plane simply blended in with normal air traffic, just nine minutes after all commercial flights were ordered to land, and slipped away in the rapidly thinning crowd to its own secret touchdown.
---
Note:
As of writing, no other-side witnesses witnesses testifying a flyover have yet surfaced. One attempt at finding one is "Barbara," whom
Woody Box presented
as "a witness detected by ME to counter [the] claim that the flyover was observed by NOBODY." On 395 near the Potomac, Barbara saw "on the left-hand side, there was a commercial plane coming in, and […] we saw […] it go down below the side of the road, and we just saw the fire that came up after that. […] I'm not sure exactly where the Pentagon, where it was in relationship to where the plane went down but they are relatively close to one another. ... whether it hit any part of that pentagon, I'm not sure." Going down and crashing doesn't sound like a flyover to me, but WB thinks it happened just on the other side, perhaps in the Pentagon's lagoon. Even considering this confusing and misread account, there is
no direct evidence for a flyover anywhere
, just the partial implications of the collected witness accounts CIT keep getting.
---
The video also cites report of a second plane just seconds behind the explosion, which then veered off. These reports could've been those who saw through the con and witnessed the explosive "impact" and the plane flying off, but their presumption of two planes, in the official story, was then quickly "turned into" the attack plane and the C-130 ordered to scope the scene. But the C-130 was not seen until at least a minute later, so the "second plane" people saw was the flyover jet fleeing the scene. As for the identity of the flyover fool-people plane, the CIT's investigation had decided on a hybrid plane with some AA features as the most likely possibility, perhaps a re-painted E4B airborne command center plane, since another one of these painted pure white was also seen in the area.
---
Note:
They do not claim an E-4B, as I cited below, since no witnesses describe a 4-engie plane. However they do still claim the C-130 was sent in to confuse people who witnessed the flyover – it appears over the immediate area by radar and video about 2 min post-impact and way up there. Little confusion possible unless reports with things like 'moments later" are read too literally the wrong way. While the newly-released radar returns of the area matches an amteur video for C-130 path and time, but contradicts with recent testimony of the C-130 pilot given to Rob Balsamo and verified with CIT via e-mail. With this flightpath untaken in the CIT construct, its rough contours have been attributed to the charter boat captain's sighting of the white jet that then circled north and presumably flew over. I'm still hazy on this point, but something clearly isn't adding up. [graphic forthcoming]
---
So besides the flyover AA-painted E4B and the later C-130 scoping out the area, there would have to be another explanation for both the light poles and the building damage. I had initially seen this as their weak point and wondered how they would handle it, but was rather surprised at the inadequacy of their explanation. On-site bombs were used to fake the airliner impact and the 300-foot-deep penetration into the building, the space that would later be filled with planted bodies, plane parts, and the very FDR that would "prove" the plane never hit the building. The tops of the light poles, marquis explains, were torn off at some earlier time and simply planted near their mangled bases, perhaps the night before, except the one that allegedly hit the taxi's windshield, but the hood was not dented also so clearly the ploe didn't fall on the car. I guess he jumped out and smashed the windshield himself just as the feds dopped the pole next to the car.
---
Note:
This whole issue is very complex and my understanding of the taxi-pole issue is still only partial, but it seems to me driver Lloyd's account does not add up. I'm far less certain than CIT as to what this means, however, and the rest of their physical case – especially at and within the building – is at least as elaborate and silly as I had suspected (see
CIT Masterlist
for my partial compilation of claims and debunkings)
---
This theory leaves many questions unanswered; they admit they don't know what happened to the passengers, for example. But these are not not enough to keep Marquis from summing up confidently "this is enough evidence to cast doubt on all of the circumstances surrounding 9/11." The northern flight and planted poles made it undeniably clear that the attack was planned from within, and clearly radical changes will be required due to this "smoking gun" evidence. At least until someone proves them wrong. Their own eyewitnesses almost do this for them:
---
Note:
This graphic missed the reported turn that merged Paik's path to the others, leading Craig to call it "the most deceptive idiotic confusing piece of crap ever." CIT's final synthesis, unless they've updated it, is this: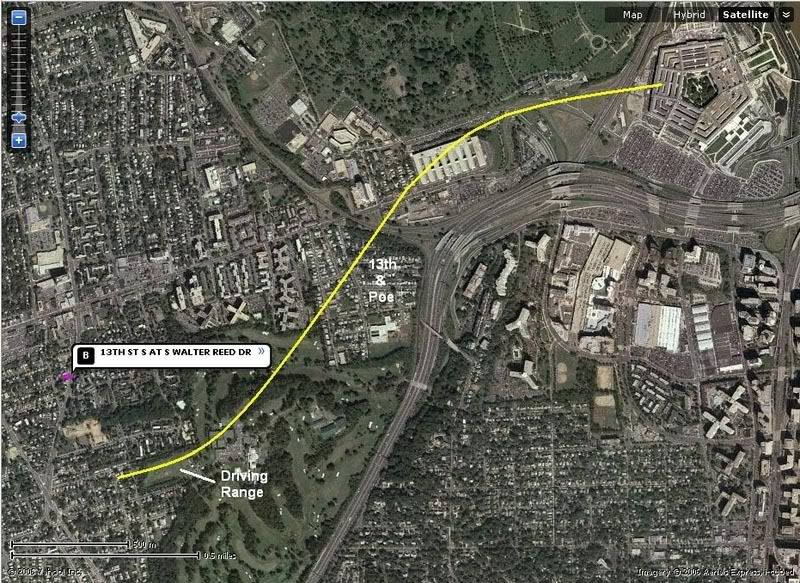 ---
This vid is clearly more fraudsterism at heart, as evidenced by the thanks list at the end of the video, a veritable who's who of no-757 activists: Dylan Avery, Dick Eastman (surprise?), April Gallop, etc. Kat Turner, an actress who starred in Inland Empire (directed by Pentalawn-awed Loose Change fan David Lynch), was thanked for providing voice-overs for the PentaCon's research edition.
---
Note:
Avery had a falling out with CIT later on and is now 'agnositc' on what happened at the Pentagon.
---
Nonetheless, its evidence, along with the recently-released Flight 77 FDR evidence might have forced me to rethink the Pentagon attack and start allowing for a second plane. But even that isn't the case made here - their theory is much simpler and dumber than even that. By denying the actual attack plane altogether in another frivolous overflight theory that treats the actual attack and its victims (both on the plane that hit and in the building that was hit) as secondary factors to explain away, they blew any chance of convincing me of this new flight path.
---
Note:
I still stand by that assessment, though how I worded it was manipulative sounding. I mentioned the dead - once! Un-provable black ops and 'total control of the scene' is explanation for any physical evidence that contradicts their theory, perpetrator control their explanation for other data that effectively conflicts. On the other hand, simple error is their reason for the bits of 'fakery' done wrong enough (like no foundation damage, the generator gouge, the poles laying the wrong way, fooling the north path witnesses into seeing an impact but not the right flight path) that they try to prove the impact impossible with it.
---
Curiously, the CIT don't even call on the new Black Box animation evidence despite its government pedigree and partial validation of the witness report, other than a brief nod to the PBB video by their "brother organization, Pilots for 9/11 Truth." This is one more clue that something is wrong with that aspect of the new fraud flight path, an analysis of which I'm well-into and will be posting more on soon.
---
Note:
'North path data' is illusion only: the FDR recorded the 'official path,' all but a few seconds of it. The NTSB animation
seeming
to show a course remarkably similar to what the witnesses described has been shown by me to be
a rotation of the fial map
, adding 20 degrees of heading and north of the Citgo apparently on accident. Luckily Craig disavows the FDR as governmnt-controlled data, but fiercely supports the anomolograhy of it done by his Pilots for Truth cohorts.
---