A VISUAL ENCOUNTER?
Adam Larson / Caustic Logic
The Frustrating Fraud
June 4 2008 2am
Colin Scoggins was the manager of FAA's Boston Center as the attacks of 9/11 unfolded around him nearly seven years ago. He played an unexpectedly crucial role relaying information between the FAA, NEADS and others, as one can hear listening to the NORAD tapes released in 2004. Perhaps most famously he was the one who passed on the much-speculated on and unfortunate report at 9:21 am that Flight 11 was still airborne. I've been sent a copy of an off-line, detailed account Scoggins wrote, and was even able to make e-mail contact recently with Scoggins himself.
While I'm still trying to get his take on my own Flight 11 theory, he's given me a puzzling insight into a lesser erred report he had to relay, which I had already covered in
six miles southeast
, as it related to CIT's East-of-the-Potomac case. The call Scoggins made, at 9:35:41 am, was essentially this: "Latest report, aircraft [inaudible] six miles southeast of the White House,' a report soon changed to "six south
west
, six southwest of the White House and deviating away." It was clear that he was passing on information from someone else, but how
those people
had become aware was not totally clear. I had presumed he was passing on a seen radar track, and that the change from SE to SW was a correction, providing a "brilliant indication" that the path released by the NTSB was
"the one seen by radar controllers on 9/11"
- a plane deviating away six miles southwest of the White House. When I asked Mr. Scoggins about it, however, it turned out more complex than I thought it would.
I asked, again presuming a radar track, "was the plane your people were watching ever on the east side of the Potomac? Was SE->SW an error->correction or correct placement->update situation?" He wasn't sure at all on the reason for the change, which stands to reason given the general overload of the morning:
"I immediately called NEADS, and was advising them what I was hearing. They changed the direction so I repeated what I heard. […] So the real question is did AAL77 cross the Potomac, I don't know. I'm 99.9% it did slam into the pentagon, on what route of flight I have no idea, other than what has been published."
He told me off the bat that "I never saw the plane, our radar doesn't go down that far," meaning south, as he later clarified "our radar only goes down part way through New Jersey." The information was being handed to him on a Telcon, a telephone (?) conference, with others at FAA, and passing it on to NEADS, where it linked to military response/lack thereof. He's not certain who he was talking to or where they were calling from, but seems pretty sure who and where through some personal research (though he isn't telling me yet). On Scoggins' advice, as he said in an interview with JREF member Ref, NEADS made a call to Washington Center, where he thought there'd be better intelligence.
"NEADS did turn around and immediately called Washington Center, and advised them that "Boston Center reported and aircraft six miles from the White House", the response from the Washington Center person who received this call was unbelievable, "How would Boston Center know if an aircraft is six miles from the White House" "CLICK" they hung up."
I was under the impression Washington center was tracking, or aware of Reagan National's tracking of 77 at this time (about two minutes before impact, near the end of the loop), and would have been the source of this intel. But apparently they rejected it when it was handed to them from the outside. Perhaps they were just too busy tracking the plane to take accurate but minutes-old hearsay about it? But it's a good question, and the one I was asking; "How would Boston Center know if an aircraft is six miles from the White House?" Scoggins told me:
"I was on aTELCON and there were people who were actually looking at their window and saw the plane, they were speaking it verbatim on the phone to the TELCON. So it was a visual encounter, I assume they were in FAA HQ on Independence AVE. I know one persons name who was there and according to a USA article on around 9/20/01 I have an idea who said it on the phone, and he is the same person that I received the Phantom 11 call on."
Was he just confusing a human voice saying it for a human eye having seen it? I asked for clarification "are you pretty sure it was not radar that was giving this info?" I would guess FAA headquarters had a link to radar controllers, if not their own screens. He clarified "when they say six miles they probably would have meant statue miles, not nautical," which would equal a slightly lesser distance. He also pointed out that "they were estimating on a visual of an aircraft moving pretty quick," and that
"I don't know what office window they were looking from, I've always felt it was FAA HQ […] I am 99 % sure that the statement was made by visual, the same person who stated that this aircraft was 6 NM southwest, is the same person who told me that AAL11 was still in the air."
I still have to doubt that this is so, Colin being 99% sure or not, because when you turn this into an eyewitness account it falls apart. The main reason is distance: I took a crop of
the picture CIT took
from witness Timmerman's apartment, which shows the Pentagon in the mid-distance and the Washington monument clearly visible across the river at 2.4 miles. But its height of 555 feet is 400 feet greater than the length of a Boeing 757. Here is how Flight 77 would have looked if it were flying near the monument, nearly 2 1/2 miles distant:

And here is an experiment in reverse, a view west from atop the Monument. The location the other photo was taken from is marked with a red eye on this 400-foot-wide building. Again, a 757 is slapped in to scale just above the building, 2.4 miles away.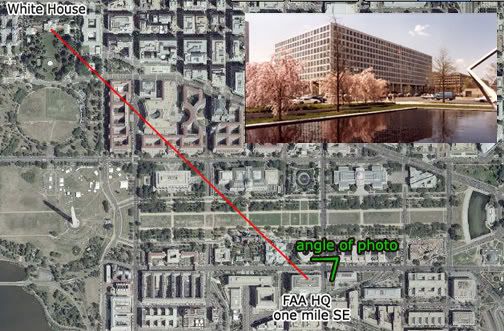 Now here's the building Scoggins thinks the call came in from – FAA Headquarters on Independence Avenue in DC. At about a mile south of the White Hose and fairly near the Washington monument, they were calling in a report of a plane about five miles away from their ten-story building. Considering the experiments above, what would a witness at FAA HQ see five miles distant? Enough to report as a plane doing this and that? It's as likely to be reported as a gnat on the window, IF the witness was staring an inch from the pane. they certainly would be able to visually pick it out if they were first tipped off by, say, a radar report of a plane five miles southeast, er, southwest. But to notice it with no prompting makes little sense to me.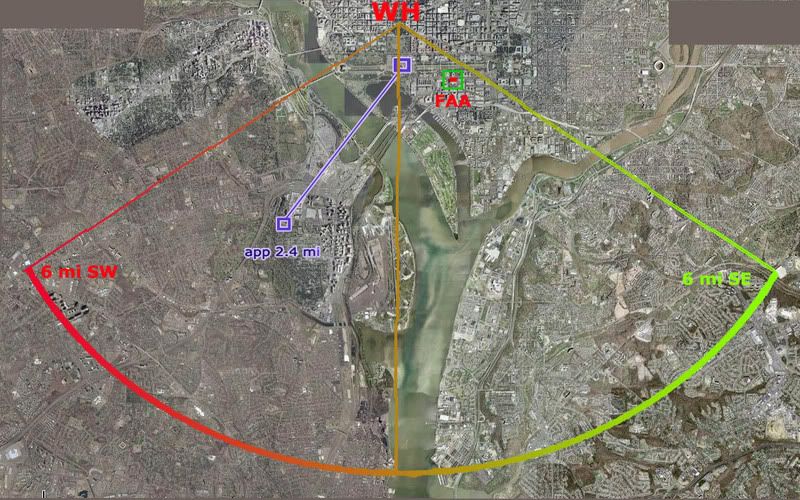 So I guess it doesn't really matter, but Scoggins could just have a false impression or imprecise memory, and then again he could be right. It is possible that some hawkeye saw it happening not
terribly
far away. It's possible but unlikely, and radar still seems right for this accurate but briefly inverted report of Flight 77's location.