BIG EYEWITNESS NEWS COMING!!!
June 11 1am
Aldo Marquis CIT has
news
for us, again! "UPDATE: We've got another corroborating witness to the DC/EOP/Chaconas flight path." Good, since the
Scoggins confirmation
didn't turn out so well. This was the first post in the Chaconas thread since
JFK shut it down
a month ago to push out PBnJ. And there's news on other fronts, hints a-dropping at the LCF in the last few days, and I gotta say I'm
scared
that my whole reality is about to come crashing down! "They have no idea how wrong they are about to be," Marquis
told Bitterman
. "Paik's position didn't allow him to see what happened at the end of the Annex," he said
in another thread
. "We do have a better idea now, so just stay tuned."
Most ominously,
Marquis announced
"We now have an additional 6 NoC witnesses. 2 on audio recording and 4 on location, on camera. One of those was a surprise published account that we did not expect to get." Lemme guess – ANC folks and such who were north of the real path, and describe the plane as over them? Now CIT's collection has grown to "12 people who saw it on the north side of the Citgo." How many mention the Citgo? I'll have to wait and see. How many people south of the real path described the plane as 'over' them? But they don't count as SoC witnesses since they don't mention the Citgo, right? Now CIT's collection has grown to "12 people who saw it on the north side of the Citgo," he
told critic Boboblaw
, "leading us to believe the plane flew over. Leading us to believe in the second plane cover story. Leading us to Roosevelt Roberts who saw the plane flying away and thought it was a second jet in the area at the exact time of the attack."
Regarding that last, I'm still waiting for that full article and complete audio that was promised a couple weeks ago. One thing at a time fellas, lets see if one pans out before we start distracting people with something else that also won't. Not sure what they're saying at their own forum, but the word bombshell is probably in there somewhere, as they plan another of their regular bomb-dropping followed by another round by the dud truck, teetering and barely able to drive beneath its towering load anymore. Perhaps they will finally break the truck, which seems their only reachable goal.
'Hey, we're not confused about Roberts' account,' CIT will likely say. 'You're the one with the stupid "questions." Why don't YOU go ask him to explain it again?' Funny they should possibly ask that right after I led the post that direction. In other news, I've been "unusually investigative" lately in sending out, last Monday, a 'clarification packet' to Officer Roberts with all the contact info he could need. In nine pages (with plenty of space, mind you), I asked about all the little details
I've been wondering about
and made it near-impossible, if he answers anything, to continue the vagueness that's come across so far. I included a zoomed map for locating himself, lane 1, etc. if all south, and a wider view for the flight path he saw. I could have made better ones I suppose, but I felt rushed.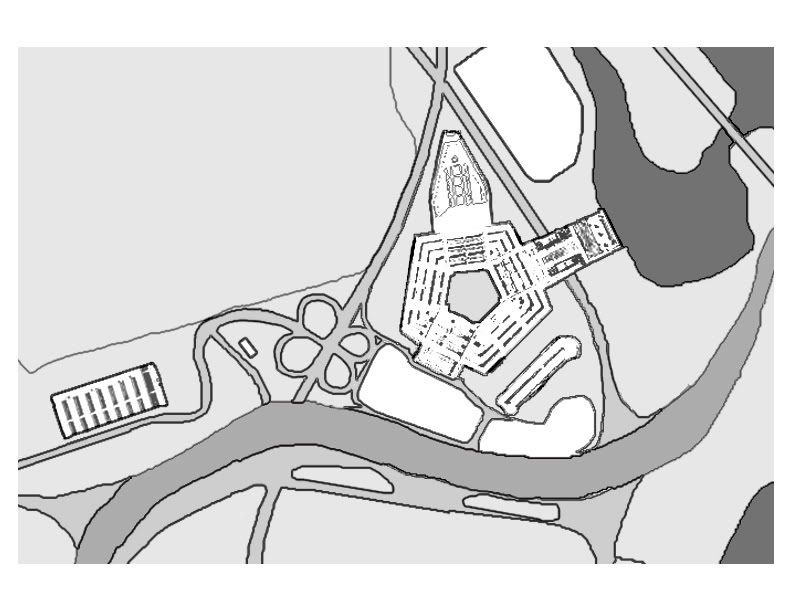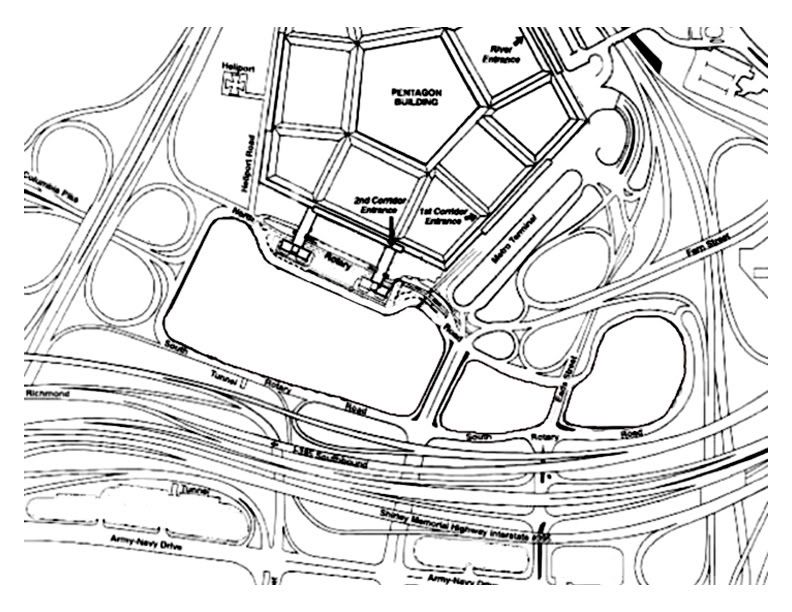 The way I see it there are three possible outcomes:
1) He doesn't respond, or does so in a curt and dismissive way. This seems most likely, but considering how he talked with CIT, I would find this a bit suspicious. They didn't just look up his number and call him, not by any means I've found, but likely got him to call them after an initial contact. Am I right, guys?
2) He responds in the affirmative of what I suspect – he saw 175 impact on TV and then saw 77 approach. I'll publish it happily.
3) He clarifies what CIT's been saying. I won't believe it, but I'll acknowledge it and, with his permission, pass it on. That in itself would be very interesting.
So each of these outcomes is educational in its own way, and it will have been worth the time in any case. He should have had the packet for over a week now, just long enough that the suspense is killing me and I'm wondering if he's planning to blow me off quietly. So now it's in the open, I can't be blown off silently. How loud it gets depends on me. In the chance he's reading this site, again, all I want is the honest and un-muddled truth, even if it's just that I fail, and we are waiting on a response. And again, Roosevelt, if you're reading this, all of this back-and-forth should not matter a bit for the outcome. Memories are memories, and if CIT can hear them, why not me?
Sincerely, Caustic Logic