RAYTHEON TO THE RESCUE?
Adam Larson/Caustic Logic
The Frustrating Fraud
old undated piece written in 2005, posted late '06, and re-posted January 1 '08
Note 5/4/08:
I haven't revised this like I planned to a few months back. See comments below for some important updates I haven't digested yet. Now it's doubly-deserving of updates and soon. Ish.
---
In all the arguments about whether it was a military weapon (missile) or a comandeered civilian transport (Boeing 757) that hit the Pentagon, one point sometimes missed is that a missile and a plane are designed on very similar principles, both are propelled with fuel and streamlined to fly great distances through the air. In fact a plane basically is a missile designed to make soft landings and to blow up as little as possible if it fails in this. But if taken in the wrong hands, as the Japanese Kamikaze pilots of WWII knew, its fuel becomes explosive, its chassis piercing and in a pinch it can become a missile in a more literal sense, or at least a large flying Molotov cocktail. It's not the best weapon but one that hijackers have been able to seize before, if previously minus the suicidal imagination to make that leap. The official story is riddled with references to the 9/11 hijackers' use of the planes as guided missiles, yet nitwits argue that in the midst of a suicide hijacking attack, on a clear and bright morning in front of hundreds of drivers stuck in gridlock traffic they break out an actual Cruise missile to strike the Pentagon. This is idiocy, this is why I never wanted to read
Meyssan
.
So a plane is a missile, and if Boeing jets really were responsible, as nearly all evidence indicates, another key question is not entirely resolved – who was piloting the plane. The bolder revisionists remove the terrorists from the scene and are left with the chilling possibility that remote control was used. But officially, this is impossible. The State Department, refuting conspiracist claims in 2005, stated flatly as an evident fact "Boeing commercial aircraft can not be remotely controlled." [1]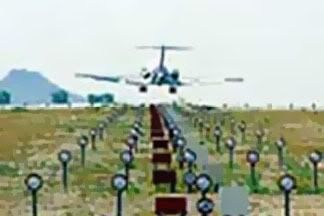 A Raytheon 727 lands in New Mexico in August, 2001. [Source: Associated Press via

Cooperative Research

]
But it is not actually impossible by a long shot - let's turn to Raytheon, a big player in the military-industrial complex involved in high-tech projects like the Joint Precision Approach and Landing System (JPALS), a landing guidance system for military aircraft. They worked with the Air Force in testing and development for JPALS, carried out at Holloman AFB, New Mexico from June to September 2001. [2] The system was completed just before the 9/11 attack and publicized just after; in an October 1 press release they boasted of their role in "the first precision approach by a civil aircraft using a military [GPS] landing system." On August 25, a FedEx Express 727-200 landed using "a Raytheon-developed military ground station." [3] They explained details, which included a total of six successful pilotless takeoffs and landings of their specially rigged Boeing airliner. This was done just seventeen days before someone helped four Boeing jets jointly and precisely approach and "land" in the World Trade Center, the Pentagon, and a strip mine in Pennsylvania.
JPALS was a military project but designed to be "fully interoperable with planned civil systems utilizing the same technology," Raytheon explained, and they were also involved with this, under contract with the FAA. [4] For this they worked on the Local Area Augmentation System (LAAS) and the Wide Area Augmentation System (WAAS), designed to improve on the GPS guidance system and bring it up to the FAA's standards for safety and accuracy. [5] By merging JPALS with these GPS-refiners, a nation-wide, extremely precise matrix for automated landings – that is remote-controlled flight – of distressed civilian airliners was a real possibility- if still officially years off.
Raytheon published the fact only on October 1, just four days after President Bush announced at a speech in Chicago "we will look at all kinds of technologies to make sure that our airlines are safe [...] including technology to enable controllers to take over distressed aircraft and land it by remote control." [6] A company official noted in the release their dedication to providing satellite-guided landing systems for "the flying public," and their pride in being "part of the success achieved this summer during JPALS testing at Holloman." [7] And proud they should be, that's some mighty fine timing.
This series of Raytheon-centered events is only one illustration of the possibility of remote controlled flight, and the curious timing in fact makes the whole thing a little too obvious for my liking, possibly another honeypot set up in advance to distract us from real leads. But even if this angle should ever be conclusively proved unrelated to shadow 9/11, it does help remind us that remote control aircraft has been a reality for the military since the late 1950s at least, and civil airliners have been being remotely landed in foggy weather for over two decades. Most disturbing are
the allegations
– tentative at best but still possible - of secret FAA/NORAD systems of remote control built in to all (American) civilian Flight Control Systems, allegedly dating back as far as the 1970s. [8] Though if such a system exists - and Raytheon's work for the FAA proves it was feasible by mid-2001 anyway - it has not been proved and has been kept thoroughly secret.
Sources:
[1] United states of America State Department. Identifying misinformation. Thierry Meyssan: French Conspiracy Theorist Claims No Plane Hit Pentagon." Created: 28 Jun 2005 Updated: 28 Jun 2005 Accessed November 5, 2005 at: http://usinfo.state.gov/media/Archive/2005/Jun/28-581634.html
[2] "Raytheon and Air Force Demonstrate Civil-Military Interoperability for GPS-Based Precision Landing System." Raytheon press release. October 1, 2001. Accessed October 28, 2005 at: http://www.prnewswire.com/cgi-bin/micro_stories.pl?ACCT=149999&TICK=RTN&STORY=/www/story/10-01-2001/0001582324&EDATE=Oct+1,+2001
[3] See [2].
[4] See [2].
[5] See [2].
[6] Long, Jeff. "Landing by remote control doesn't quite fly with pilots." Chicago Tribune. September 28, 2001. Accessed January 2, 2005 at: http://www.chicagotribune.com/technology/chi-0109280208sep28.story
[7] See [2].
[8] Vialls, Joe. "Home Run: Electronically Hijacking the World Trade Center Attack Aircraft." October, 2001. Accessed October 30, 2005 at: http://www.geocities.com/mknemesis/homerun.html