first posted April 20
last updated 5/5 1 am
At least at the CIT Forum I'm allowed to read any posted attacks against me, unlike at some other forums where one must
register their computer with the owners to even read it
, which I refuse to do. Craig got mad about my
'attack'
on a witness he's about to publish. They offered no link to the actual attack, as they don't link to 'disinfo' and banned me from posting there for
being
disinfo, of course, as dis-disinfo
would
be called by disinfo.
He again resorted to my "ego-driven obsession" admission, which I injected into his quote repertoire intentionally as a dye marker to gauge when he really has nothing else to offer.
To prove I said this, he even finally offers a direct link to my 'disinfo.' I've seen it, and can document it. I make a bad point, they call me on it. He's wrong! Here's why. Then I consider that, reformulate and hit back... and suddenly it's either a fluffed-up bluff, an accusation of incoherency (what? I couldn't hear ya! What?) or failing even that, it's the ego/obsession thing, or perhaps I'm an "operative" if I'm dealing with Aldo.
And when that stops working it devolves further... PFFFFT and CIT are now so confident of their facts they have resorted to comments about my job, my appearance, my kitchen, and
my girlfriend's 10-year-old son.
[
link to their stupidity, which I always offer since I trust my readers to decide for themselves
].
I was hoping to keep the kid out of all this, and I had a feeling of dread one night recently when I realized I had still been logged into his account when responding to one of Rob's lying posts on my video page. I hoped he'd be mature enough to leave that alone, but got myself worked up worrying about it for reasons I can't fully explain, and can't expect Rob to understand. So of course he passed the link on to CIT who make an animated gif of me where Nick coaxed me to be in one his shorts – getting hit in the head with a ball of clay and falling down like a dork in my messy kitchen. They captioned this with witty lines about me being deceptive and knocked over by CIT's evidence and shit like that. I chuckled a bit despite myself. They all had a great time, not playin, making fun of my hair and skinniness, whatever. [eh, see them there] Hahaha! I look like dork in my messy kitchen! This is okay since I did this earlier for CIT using Ranke's public picture: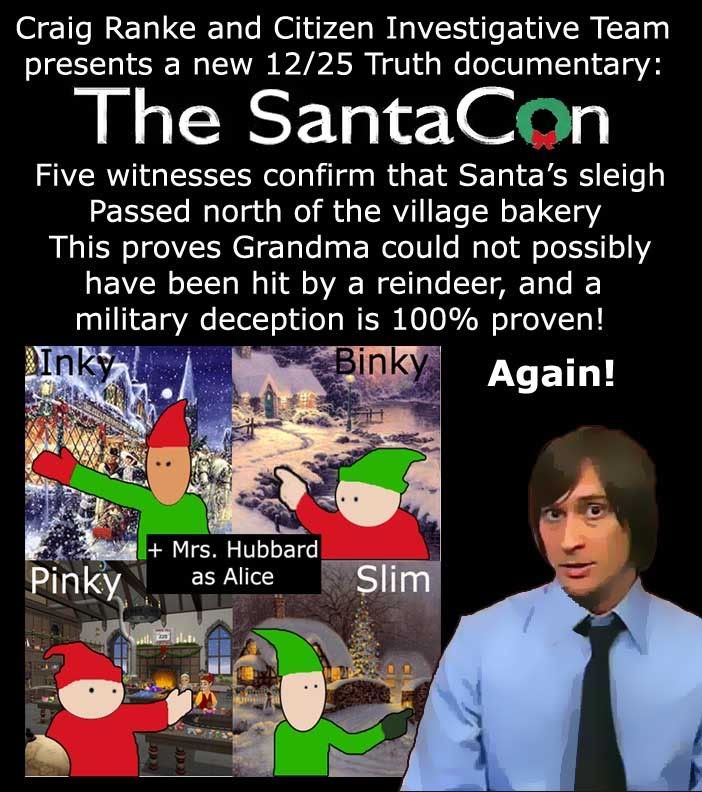 But for my own reasons, I had really been hoping to keep Nick out of this, at least by name, but too late now. What pissed me off most was when Rob, probably belligerent drunk, asked "I wonder if that "Nick" kid was the same "Nick" we were arguing with last year on ATS." After I had asked him to not drag the kid into it, he said "Adam..
YOU brought the kid into this by having him post on the net (if
in fact it was the same Nick. Going by his replies, it sure seemed like a 10 yr old)." [emph mine] Yes Rob. Last year when he was nine I had him argue with you online. He's a smart kid, just not smart enough to use a screen name other than his own. I brought it down on us. For some reason this whole thing really pissed me off. I told him if we were in the same room I'd punch him in the face. I'm sure he'd win the fight, but still…
update 4/22
nick 7261 argues fine, this is just another insult. perhaps little nick could argue rob down, i dunno, but big nick did well - he was over-zealous and sometimes stupidly wrong, but really smart and biting at moments too.
Rob did correctly point out that it was never top-secret, that "you can scroll through "related videos" on the right margin of your "CausticLogic" videos and find "AdamSonOfLars" and vice versa." Yes, I never liked that and that's my fault - but it was somehow never a problem until a couple days after that stupid slip that gave him this opportunity to do some accidental op research. So you got your funny pictures, and whatever else. Account closed, new one if there is will be firmly separated and any further drawing in of my personal life and family into this - should be avoided for many reasons. Harassers for 911 truth doesn't have the same ring...
Stick to the issues please Rob. Still no explanation for what you meant by all those cherries
I made that pie out of
. Still no
(public)
correction to your patently ridiculous G-force calcs based on an irrelevant thought exercise. Nothing beyond the word of a FDR salesman that that wrong data is 1 sec or less from the wall, tho we hear you have more evidence somewhere. And how about that airfones thing? You can't get your own shit together yet you can always find time to sling more insults. Oh, and to go enjoy your water sports.
I mean, I could go off on that stupid picture you slapped me with of your lying fat ass on that waterskiing adventure, sucking up the $$$ that suckers keep sending you for DVDs and barbecue aprons, but that would be side-stepping the issues and engaging in childish personal attacks on your motives and appearance.
But while we all wait for updates and/or admissions, this will help while away the time. First, I'll let anyone else decide what to put in this balloon. Submit entries in comments section below. I'll add my own later. Winners will be posted, and recieve nothing more. Then I can call it even and move on to you continuing to ignore and downplay your own lies and not-quite-lies as I finally stop bothering "holding your hand" and trying to walk you towards a more truthful path.
---
update 4/22
I'm less angry now - my girlfriend thinks it's not such a big deal... she's more upset that i deleted the page. I'm new to the sorta-parent thing and was trying a bit too hard with the 'protective' thing. Also Craig, thanks for the tips. you may just be better at parenting advice than at running an 'investigation.' keep trying and you may find your calling.
update 5/5:
In fact I have Rob to thank for helping me realize I don't want video accounts tangled and there''s no way it seems if they're even looked at on the same computer. So I'm deleting my Youtube videos and not watching others. Also, the contest is decided after I received Rob's entry as well (see comments below). This is the winner.