THE PSYCHIC MUNCHKIN BEHIND THE HOLY GRAIL
Adam Larson
Caustic Logic/The Frustrating Fraud
December 15 2006
Perhaps the oddest case in the small but fertile world of government functionary-9/11 Truth crossover is that of Barbara Honegger, a dedicated but elusive and little seen 9/11 warrior with murky roots (apparently military and intelligence). She was allegedly into weird parapsychic stuff, channeling voices of supercomputers from the future and whatnot, [1] before she went to work in the late 1970s for a rising star named Martin Anderson at the Hoover Institute (where he remains as a Senior Fellow). She then followed Anderson to the White House as an assistant to join the Reagan-Bush transition team in 1980. Anderson advised Reagan on everything from foreign intelligence to education, finance, and arms control, probably worked for Bush sr., and during the Clinton Years focused on teaching classes at Stanford (home of the Hoover Institute and where Condi Rice was briefly provost). Anderson was later an advisor to George W. Bush in his 2000 presidential campaign, [2] and eventually became a member of Rumsfeld's influential Defense Policy Board in 2001. [3]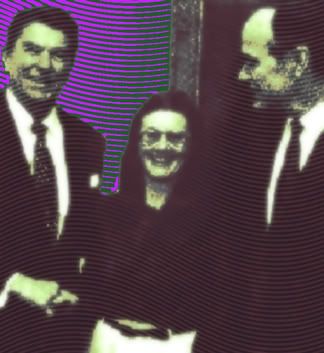 Muchkin Honegger smiling with Reagan and Bush in the White House.
Honegger herself had split off from her Republican benefactors early; she only served the Reagan White House as a researcher and policy analyst until she resigned in 1983 under unclear circumstances – either over sexual discrimination or something else. In May 1985 Newsweek ran a piece on Honegger titled "The Munchkin's Musical" that stated "White House aides began whispering that Honegger was a believer in ESP who claimed she'd ridden on Halley's comet." [4]
At the time she was also among the first to have leaked details of the "October Surprise" scandal, much of which was later verified by numerous involved parties. The deal was allegedly made by George Bush and William Casey to delay the release of the hostages in Iran - a delay that cost Carter the White House and gained it for Reagan and Bush. [5] Her charges culminated with the 1989 book "October Surprise," predating Gary Sick's work of the same name (which does not mention her) by two years. In the end, the scandal cost Reagan nothing, covered up by an investigation headed by a certain Lee Hamilton, who would go on later to 9/11 Commission and Iraq Study Group fame. Honegger later left a small mark on the Iran-Contra scandal, carried out as it was by largely the same networks responsible for the October Surprise, continuing to weave a picture of Bush-centered intrigue.
Despite all this, she not only remained alive but went on to tie Bush's son and former Defense Secretary in with carrying out 9/11, her works on which carry the disclaimer "all of Honegger's research and publications on September 11 are solely in her capacity as a concerned private citizen and do not imply official endorsement." This is because in 1995 she was given a cushy job as Senior Military Affairs Journalist at the Naval Postgraduate School, which she holds till the present, writing about such things as a cyber-defense exercise in 2002: "all the National Security Agency's Trojan horses and Air Force and Army's info-warriors couldn't break through the cyber walls erected by the Naval Postgraduate School's ace "Blue" Team," she wrote. [6] How ironic then that what some suspect of being NSA Trojan horse 9/11 arguments should have eventually broken through her psychic shields and into her research.
Honegger's role in the 9/11 Truth movement is huge and will perhaps go down as her crowning achievement, for good or ill. Her legacy here is centered on revealing to Mike Ruppert inside info on
the War Games of 9/11
which scrambled the defense and were probably co-ordinated by a Maestro working for Dick Cheney. These revelations formed what Ruppert called "in my opinion – the holy grail of 9/11 research," and a key point for the smarter edge of the movement at large. [7] Her credentials thus seem solid, but her later works I've seen are sloppy and full of holes and leaps. In October 2004 she reportedly told a forum in Los Angeles that "shoe bomber" Richard Reid was really Osama bin Laden, who apparently dyed his hair, trimmed his beard, removed a few wrinkles and turned himself in as it were by trying to ignite his shoes on a trans-Atlantic flight. [8]

Honegger's later works include "The Pentagon Attack Papers," published as an appendix in Jim Marrs' "The Terror Conspiracy," 2006, taking her squarely into this blog's turf. In her Pentagon analysis, she argued against a big plane and for a traditional bombing. This, she's certain, happened at 9:32, with anything happening at the official time of 9:37 being some sort of cover – possibly the impact of "an airborne object significantly smaller than […] a Boeing 757." She cites a mixed bag of evidence, from hard fact like a stopped clock to repeated government "slips" to irrelevant coincidences, and has cited war games at the Pentagon that morning, which are unverifiable but likely incorrect. [9] (I will post on this theory in more detail sometime soon).

She has also tied the alleged original pilot of Flight 77 before it was hijacked, Captain

Charles Burlingame

, to "a Task Force that drafted the Pentagon's emergency response plan on what to do in case a plane hit the building." She appears to be the source of the similar charge laid out in Loose Change, second edition's opening segment. It's an intriguing possibility, but it doesn't help her tentative case that she then finds it "extremely likely, if not certain - that this 'task force' that […] Burlingame was part of was
the Cheney counterterrorism preparedness task force
, and that the Pentagon plane pilot, therefore, directly knew and even worked with/for Cheney." [10] Maybe that parapsychic training is helping her to fill in the gaps with right-brain impulses or insights from the future that make it all make sense…
No more promising is her citation of "the already legion evidence that Flight 77 did not hit the Pentagon:" "the small hole in the west side of the Pentagon being not nearly large enough for the plane's fuselage, let alone wing width," "no damage to the lawn where Flight 77 allegedly struck and skidded before hitting the building," "wrecked plane parts at the site identified as being from an A-3 Sky Warrior, a far smaller plane than that of Flight 77, a Boeing 757." [11] Of course my debunkings are legion as well, or getting there.
"The small hole"
-
the unmarked lawn
-
the plane parts
-
The A3 Sky Warrior Theory.
While her reputation in the movement is generally sterling and I don't know enough to cast large stones, these aspects of Honegger's works – her unexplained leaps, need to tie Cheney in personally, and especially disagreeing with me over the Pentagon evidence - are deeply flawed. Whatever her intentions, she has served as a useful and strangely credible-seeming source, and also a comet-riding psychic moonbat in the employ of the US military pushing among the worst 9/11 theories. That doesn't prove anything but it's worth considering.

Sources:
[1] http://www.mindcontrolforums.com/mindnet/mn202b.htm
[2] "2001: Mr. Hoover Goes to Washington?" Myszewski, David. Stanford Review. Volume XXV, Issue 6: January 2001
http://www.stanfordreview.org/Archive/Volume_XXVII/Issue_7/2001/
[3] Martin Anderson: Keith and Jan Hurlbut Senior Fellow. http://www.hoover.org/bios/anderson
[4] Source lost... I'll check at the library and get back...
[5] http://www.spartacus.schoolnet.co.uk/JFKhonegger.htm
[6] Honegger, Barbara. "NPS Aces Second Annual DoD Cyber Defense Exercise." http://www.nps.navy.mil/PAO/Internal/Cyber_Defense.htm
[7] Ruppert, page 336.
[8] Propaganda Patterns: Official Stories, Limited Hang Outs, Best Evidence, Distracting Disinformation
a political map of political collapse and possibilities. http://www.oilempire.us/propaganda.html
[9] Honegger, Barbara. "THE PENTAGON ATTACK PAPERS: Seven Hours in September: The Clock that Broke the Lie"
Appendix to THE TERROR CONSPIRACY by Jim Marrs. Publication date, Sept. 6, 2006 http://johnmccarthy90066.tripod.com/id206.html
[10] "War Games" by the US military on 9/11: paralysis of air defenses that ensured the success of the attacks? who coordinated these efforts?" http://www.oilempire.us/wargames.html
[11] See [9].